Day 1 :
Keynote Forum
South West Regional Health Authority, Trinidad
Time : 10:00-10:40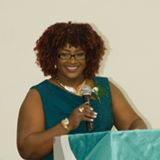 Biography:
Kathyann Thomas Elbourne is currently the General Manager Nursing at the South West Regional Health Authority. She is the President of the Trinidad and Tobago Midwives Association and the Public Relations Officer of the Caribbean Regional Midwives Association. Kathyann began her career in Nursing thirty-one (31) years ago and in addition to the extensive clinical experience. She has an outstanding academic background. She has a BSN in Nursing and a master's in nursing administration. Kathyann is a Registered Nurse, Licensed Midwife and District Health Visitor who has used many innovations in the delivery of care to her clients. She has written and produced a play on stigma and discrimination in HIV/AIDS entitled "A Cry from the Heart", started a childhood obesity camp, written many monologues, started a women's forum and many other initiatives. Kathyann is passionate about midwifery and is making strides in changing the face of midwifery in her country. Her goal surround delivery holistic services and empowering citizens to be more responsible for their health.
Abstract:
Aim: This study seeks to determine how the transition of menopause was associated with the quality of life in women 40 to 55 years from varying ethnic backgrounds in the county of St. Patrick West Trinidad.
Methods: A descriptive survey was conducted in county St. Patrick West. Convenience sampling used to obtain 120 women within the age group 40-55 years from 4 randomly selected health centers. A modified version of the menopause specific quality of life questionnaire was used. The tool was pretested on five participants who were not included in the main study, to determine relevance of the additional questions. The data collected were analyzed using the statistical package for social science (SPSS) version 12.0.
Results: 47.5% of the population is of African descent, 39.2% were East Indians and 13.3% of mixed race. Kruskal Wallis test was used and revealed a P-value of 0.01 indicating that ethnicity was statistically significant in the experience of menopause and the quality of life. The Mann Whitney U test gave a P-value of 0.06 on the aspect of educated and preparedness for the transition of menopause, which makes it not statistically significant. However the study did show that women sort various remedies, 38.3% used herbal, 27.5% used diversion therapy, 21.6% used exercise and 12.6% used nothing. On the rating scale of how bothered they were, 62.5% had little bother and 37.5% were moderately bothered. Overall individual symptoms were extremely bothersome for many participants; however, no one had all 29 symptoms.
Conclusion: The study showed an association between ethnicity and quality of life experienced by the menopausal woman. However it was not statistically significant to make a generalization. Therefore further research is needed with a larger population. It did however reveal that with knowledge on menopause a better quality of life existed and therefore supports the need for an educational program on menopause.
Keynote Forum
Curtin University, Australia
Time : 10:40-11:20

Biography:
Lesley J Kuliukas is a Lecturer and Faculty of Health Science in Curtin University, Australia.
Abstract:
An inter-professional simulated learning day with standardized patients (hired actors) was held for student midwives and student social workers in a simulated hospital ward in response to a situation involving family and domestic violence (FDV). Two scenes were pre-written and an unplanned scene was also improvised. Initial evaluation of the session was conducted by questionnaire, with capacity for quantitative responses using a five-point Likert Scale and qualitative replies to questions via textbox. A focus group with the six midwifery students offered an opportunity to provide feedback the following week. Overall findings suggest that students found the simulation a realistic, valuable and safe experience. Student midwives felt less prepared than the social work students and some were confronted by the realism when faced with a scene of FDV; all valued the inter-professional experience and found it useful to discover the role of their professional counterparts in responding to FDV.